Prayer of the Day
Daily Prayer
March 18th, 2015
""The Son gives life to everyone he chooses.""
John 5 : 21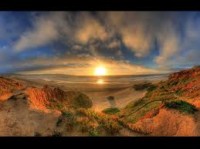 The Father forgets not his people, nor his children. Christ forgets not what the Father has taught Him. It doesn't matter who you are. My love for you remains.Our love is very limited. We love our own. The Lord loves all, especially the broken hearted! What then must we do? Fertilize your love! Believe and love all things. Hold no bitterness towards another.
Sacrifice, prayer and fasting are the Lord's fertilizer. They help love to grow stronger and wider each day. We love our own, so our love needs to grow! Today, look at the cross and allow your heart to melt. Christ's love, his beauty, breaks our ribs to bear our hearts. Look at the cross knowing whose face is there, why he is there, what kind of love moved him to go there, and whose sins sent him there.
The Father, the Son and the Holy Spirit are constantly at work renewing the face of the earth and the faces of all his children, from tears to laughter, from death to life.
Prayer
Prayer "Lord, increase my love for you and unite my heart and will with yours, that I may only seek what is pleasing to you." Amen