Prayer of the Day
Daily Prayer
June 8th, 2015
""Blessed are the poor in spirit"..."
Matthew 5 : 1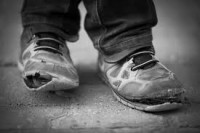 The first Beatitude,   says that the poor in spirit are blessed for theirs is the kingdom of heaven. At a time when so many people are suffering as a result of the financial crisis, it might seem strange to link poverty and happiness.   The Lord calls us to a Gospel lifestyle marked by sobriety, by a refusal to yield to the culture of consumerism. 
If we are to live by this Beatitude, all of us need to experience a conversion in the way we see the poor. We have to care for them and be sensitive to their spiritual and material needs.  Faced with old and new forms of poverty – unemployment, migration and addictions of various kinds – we have the duty to be alert and thoughtful, avoiding the temptation to remain indifferent. We have to remember all those who feel unloved, who have no hope for the future and who have given up on life out of discouragement, disappointment or fear.    
Prayer
"Lord Jesus, increase my hunger for you and show me the way that leads to everlasting peace and happiness. May I desire you above all else and find perfect joy in doing your will." Amen (Pope Francis sermon to young people)