Prayer of the Day
Dedication of the Basilica of St. Mary Major
August 5th, 2016
"What has a man to offer in exchange for his life."
Matthew 16 : 26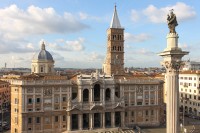 In every decision of life we are making ourselves a certain kind of person.  The kind of person we are, our character, determines to a large extent the kind of future we will face and live. Of what value are material things if they don't help you gain what truly lasts in eternity.  Jesus asks the question: What will a person give in exchange for his or her life?  Everything we have is an out-right gift from God.  We owe him everything, including our very lives.  It's possible to give God our money, but not ourselves, or to give him lip-service, but not our hearts.  A true disciple gladly gives up all that he has in exchange for an unending life of joy and happiness with God.  God gives without measure. The joy he offers no sadness or loss can diminish.
The Basilica of St. Mary Major is a Papal major basilica and the largest Catholic Marian Church in Rome,  Italy.  The ancient basilica enshrines the venerated image of Salus Populi Romani,  depicting the Blessed Virgin Mary as the health and protectress of the Roman people,  which was granted a Canonical coronation by Pope Gregory XVI on 15th August 1838.
Prayer
"Take, Lord, and receive all my liberty, my memory, my understanding, and all my will, all that I have and possess. You have given them to me; to you, O Lord, I restore them; all things are yours, dispose of them according to your will. Give me your love and your grace, for this is enough for me." (Prayer of Ignatius of Loyola,) Amen