Prayer of the Day
Easter Friday
April 10th, 2015
""Jesus said to them; 'Come and have breakfast.'""
John 21 : 12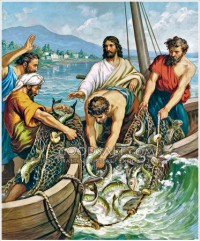 To-day's story of Our Lord appearing to a group of his disciples is a very beautiful one.  Peter and six others including John,  the beloved disciple,  had spent the night fishing but caught nothing.  Early in he morning Jesus appeared,  to them on the beach but they didn't recognize him.  When he suggested that they cast their net again they obeyed and to their great surprise they caught so many fish that they had great difficulty hauling the boat ashore.  Seeing the big catch John remembered a similar miracle when they had first met Jesus and he recognized the Lord.  When Peter heard it was the Lord he jumped into the water and was the first to reach Jesus.  Soon they all arrived dragging the net.
Imagine their surprise and joy to see a fire with fish cooking on it and better still to hear that invitation from the Lord! "Come and have breakfast.'  What a feast that must have been –  plenty of fish and bread,  an abundance of love,  forgiveness and great joy!
We all  like to be invited to a special meal – whether it be a birthday,  an anniversary or even a wedding.  And if some body very important invites us we feel really privileged. Obviously St. John was deeply touched by this morning meal on the shore.  He remembered it years afterwards and wrote about it in great detail in his Gospel.  But there is no need for us to envy John and his companions.  The same Lord Jesus says to each of us at every Eucharist 'Come and have breakfast – This is by Body give for you.'  Come and join in the feast.
Prayer
"Come then, good Shepherd, bread divine, Still show to us thy mercy sign; Oh, feed us, still keep us thine; So we may see thy glories shine in fields of immortality." Amen (Thomas Aquinas)