Prayer of the Day
Easter Friday
April 1st, 2016
"Just after daybreak, Jesus stood on the beach; but the disciples did not know that it was Jesus. "
John 21 : 14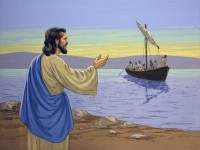 In today's Gospel reading the disciples are back again where they had started – at their trade of fishing in Galilee. This time, Jesus appeared and when they tell him that they had laboured all night but caught nothing, he advises tem to try once more. At first, only John recognised Jesus in the morning light – undoubtedly because Jesus had performed a similar miracle earlier. (Cf. Luke 5:1-11). John looked with the eyes of the soul and encouraged Peter to run to the Lord.  Both are perfect models of a disciple and a follower of the risen Christ who manifested his divinity in the miraculous catch of 153 large fish.
All, eventually, recognised Jesus and invited him to share a meal with them.
Prayer
Lord, give me the peaceful assurance that everything works together for my good. Amen