Prayer of the Day
Easter Monday
March 28th, 2016
"So they left the tomb quickly with fear and great joy, and ran to tell his disciples. "
Matthew 28 : 8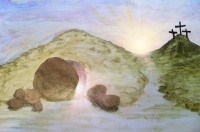 The women witnesses carry Jesus' instructions to the disciples: they are to "go to Galilee, where they will see him". The disciples were not told by the women to build a shrine around the sepulchre and make it an object of world pilgrimage. They were called away from Jerusalem. They were to plunge into this world plan of God.
As disciples of Jesus, we too are to use all our energy and human resources for the kingdom of God. We must never allow anything, even the empty tomb of Jesus, to distract us from keeping our eyes on Jesus and our hearts compassionate towards the world. Jesus reminds us not to be afraid but to carry the news to "his brothers and sisters" across the world.
Prayer
Lord, may I journey with you in joy and hope as I recall your goodness to me. Amen