Prayer of the Day
Easter Monday
April 21st, 2014
""Filled with awe and great joy, the women came quickly away from the tomb and ran to tell the disciples.""
Matthew 28 : 8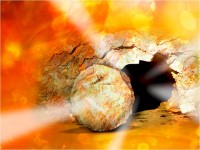 The accounts of the Resurrection of Jesus differ greatly in the four Gospels. The early church had no agreed way of telling the events surrounding the resurrection of Jesus, as it had for the events of his death.  According to Matthew, in the early morning on the first day after the Sabbath rest, the two women return to the tomb to resume the grieving they began when Jesus was buried. They were also among the ones who saw Jesus die. Instead, they discover a great joy! They witness great apocalyptic signs. The earth quakes, as it did when Moses experienced God on Mount Sinai. Matthew uses the shaking of the earth to portray divine power. It also links the raising of Jesus with his death.
The women leave the opened tomb in great joy to tell his disciples. On the way Jesus meets them, and he sends them to his unfaithful disciples whom he again calls his 'brothers.' They will see him not in Jerusalem but in Gentile Galilee.
Prayer
Lord, give us the courage of the women who carried the Good News of the Resurrection to the frightened followers of Jesus. Amen