Prayer of the Day
Easter Saturday
April 11th, 2015
""Blessed is she who believed that the promise made her by the Lord would be fulfilled.""
Luke 1 : 45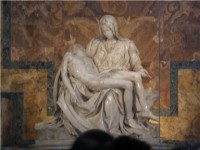 According to a long tradition in the Catholic Church Saturday is dedicated to Our Lady.  Mary was the faithful one who stood by the Cross of her Son,  watched him die and received his dead torn body into her arms.  Michelangelo's statue of Our Lady of Sorrows – the Pietà – is one of the big attractions in St. Peter's Basilica in Rome.  But have you ever seen a picture of Jesus appearing to his Mother after the Resurrection?  No!
Mary is not mentioned in any of the apparitions.  But does that mean that Jesus didn't reveal himself to his Blessed Mother when he rose from the dead?  Surely not!  Mary's faithfulness on Good Friday and her lonely vigil on Holy Saturday would certainly have been rewarded.  Mary would have been the first to share the joy of her Risen Son but her experience was different from that of the others.  Perhaps this was because Our Lady didn't need to have her faith strengthened as the others did.  From the beginning of Luke's Gospel Mary is spoken of as the one who believed in the Lord's Word.  Like the Apostles she would have heard her Son say that he would be put to death but on the third day he would rise again.   Mary would have pondered these words in her heart as she stood by the Cross and kept vigil when her Son was placed in the tomb.
Did the Lord have his own mother in mind when he spoke those words to doubting Thomas; "Blessed are those who have not seen and yet believed."  (John 20 : 29)  But hopefully we too are included in that Beatitude.  So let Mary be our model as we continue our journey of faith hoping to see the Lord face to face when our pilgrimage ends.
Prayer
Rejoice and be glad O virgin Mary, Alleluia, for the Lord has risen indeed. Alleluia. Amen