Prayer of the Day
Easter Saturday
April 2nd, 2016
"And he said to them; 'Go into all the world and proclaim the good news to the whole creation.' Mark 16:15 "
Mark 16 : 15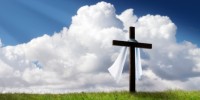 Today we meditate on the last page of the Gospel of Mark. Which gives us a kind of synthesis of the resurrection appearances.  The highlight of the text is Jesus' encounter with the eleven. Jesus' resurrection meant that the kingdom of God would not lead them to a world of prestige but would make ever greater demands upon them. Jesus' resurrection flung wide the doors into the future, and no one could anticipate ahead of time what kind of life lay beyond those doors.
The disciples were baffled and annoyed, perhaps, that the first announcement of Jesus' resurrection was brought by a woman – Mary Magdalene – and by two relatively unimportant people, Cleopas and his wife.
A true disciple is made to realise that the first task is directed to the person of Jesus. As they went forth to the ends of the earth, their proclamation of the Good News was to bear a quality of wonder and of personal devotedness for Jesus.
Do we believe that Jesus has risen in our lives, in our hopes, in our plans and in our desire to promote God's message of love for all? The message entrusted to the Apostles is the same message entrusted to us today – to proclaim the Gospel throughout the world.
Prayer
I praise you, Lord, because you have answered me far beyond my dreams. Amen