Prayer of the Day
Easter Saturday
April 26th, 2014
""And he (Jesus) said to them, 'Go out to the whole world; proclaim the Good News to all creation.'""
Mark 16 : 15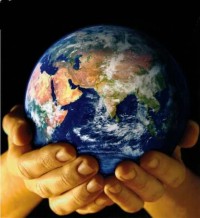 When the two disciples on the Road to Emmaus finally realised who Jesus was, they rushed back to Jerusalem. It is not enough to read about Christ as a personality or to study his teachings. We must also believe he is God, trusting him to save us and accepting him as Lord of our life. This is the difference between knowing Jesus and knowing about him.  Only when we know Christ will we be motivated to share with others what he has done for us, personally.
Jesus told his disciples to go into the whole world , telling everyone that he had paid the penalty for sin and that those who believe in him can be forgiven and live eternally with God. Christian disciples today in all parts of the world are preaching this Gospel to people who have not heard about Christ. The driving power that carries missionaries around the world is the faith that comes from the Resurrection.
We must personally realise that Jesus rose from the dead and lives for us today.
As we grow in our relationship with Christ he will give us the opportunities and the inner strength to tell his message.
Prayer
Lord, I believe that you are with me, enabling me to spread your message of love, peace and forgiveness in the way I try to live your Gospel. Amen