Prayer of the Day
Easter Sunday
April 5th, 2015
""I have risen and am with you still, Alleluia.""
Entrance Antiphon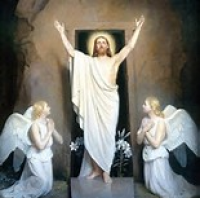 To-day the Church celebrates its greatest feast – the Resurrection of Our Lord Jesus Christ from the dead.  Having followed Jesus on the Way of the Cross and shared in his Passion and Death,  Christians everywhere rejoice to-day as they sing Alleluia!  First of all we rejoice with our Lord because his suffering is over – he has overcome evil and is now glorified with his Father in Heaven.  Then we rejoice that he is still with us,  that we share in his Risen life and that our place in Heaven is being prepared.
To-day's Gospel speaks of the empty tomb,  "the linen wrappings lying there and the cloth that had been on Jesus' head, not lying with the linen wrappings but rolled up in a place by itself." (John 20 : 8)  The Apostle John who had run to the tomb with Peter saw all this and believed.  But what did he believe?  Probably he believed that his Lord and Master was no longer dead but where was he?
During Easter week we will read about the various apparitions which Our Lord made to the disciples after He had risen from the dead.  During the three years they had spent with him they had witnessed how he had brought people back to life.  There was the daughter of Jairus,  the widow's son and most dramatic of all,  the raising of Lazarus who had been in the tomb for days.  But could it be possible that he was crucified three days ago,  had overcome death and was still with them?   His disciples would need a good deal of convincing but Jesus who was always the best of teachers would gradually lead them to a deep faith.  He would meet them in their ordinary lives and gently reveal himself to them.
During these special days let us ask the Lord to deepen or faith so we too can become joyful messengers of the Good News that the Lord is risen and is still with us.
Prayer
O Queen of Heaven rejoice, Alleluia. For He whom thou didst merit to bear, Alleluia. Pray for us to God, Alleluia. Amen (This prayer replaces the angelus during the fifty days of Easter)