Prayer of the Day
Easter Sunday
March 27th, 2016
"Early on the first day of the week, while it was still dark, Mary Magdalene came to the tomb and saw that the stone had been removed from the tomb. "
John 20 : 1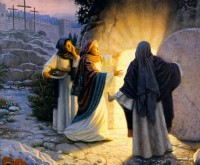 People who hear about the Resurrection for the first time may need time before they can comprehend this amazing story. Like Mary and the disciples, they may pass through four stages of belief. At first they may think the story is a fabrication, impossible to believe. Like Peter, they may check out the facts and still be puzzled about what happened. Only when they encounter Jesus personally are they able to accept the fact of the resurrection. Then, as they commit themselves to the risen Lord and devote their lives to serving him, they begin to understand fully the reality of his presence with them.
Peter and John, informed by Mary Magdalene that the stone had been rolled away from the tomb, ran to the place where Jesus was buried. St. John tells us that "as yet they did not understand the Scripture that Jesus had to rise from the dead." With the Resurrection, every moment of Jesus' ministry takes on significant meaning. As we revisit the account of Jesus' life and death, everything is new again.
Prayer
Lord, may we be filled with gratitude and joy as we journey into new life and resurrected hope. Amen