Prayer of the Day
Easter Sunday
April 20th, 2014
""It was very early on the first day of the week and still dark, when Mary of Magdala came to the tomb.""
John 20 :1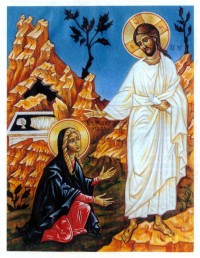 According to the Gospel of Mark, the sun had risen; Matthew describes it as 'dawning' and Luke refers to early dawn. John's Gospel tells us that Mary sees the stone rolled away – not the 'empty tomb' as stated in the other Gospels. Mary Magdalene, whose love brought her to the cross and who watched as Jesus was wrapped for burial, was last seen in the Gospel sitting at the tomb, according to the Gospel of Matthew. According to John's Gospel she is the first witness to the Resurrection of Jesus.
People who hear about the resurrection for the first time may need time before they can comprehend this amazing story. Like Mary of Magdala and the disciples they may pass through four stages of belief. 
At first, they may think the story is a fabrication, impossible to believe.
 Like Peter, they may check out the facts and still be puzzled about what happened.
Only when they encounter Jesus personally are they able to accept the fact of the resurrection.
Then as they commit themselves to the Risen Lord and devote their lives to serving him, they begin to understand fully the reality of his presence with them.
Prayer
Lord, we thank you for those people who touch our lives with the joy of the resurrection. Amen