Prayer of the Day
Easter Thursday
April 9th, 2015
""Jesus himself stood amongst them and said to them; 'Peace be with you.'""
Luke 24 : 36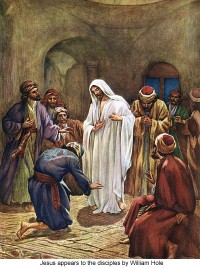 On Easter Sunday evening the Apostles were gathered together in the Upper Room in Jerusalem where they had celebrated the Passover Meal with their Master on Holy Thursday.  So much had happened since then!  Jesus had been condemned to a terrible death and they had run away and deserted him.  Peter,  their leader,  had even denied him three times.   Then the women had said that the tomb was empty and Jesus was alive.  Not knowing what to believe and filled with fear they had locked themselves in.  It was into this room that the Lord suddenly appeared and greeted them with words of Peace – Shalom!  But they couldn't believe their eyes – they thought they were seeing a ghost.  Our Lord is patient with them,  shows them his wounds,  even eats with them.  There is no mention of how they had let him down during his Passion and Death.  Our Lord's only concern is to help them believe that he is Risen and still with them.  So he opens their minds to understand what was written about him by Moses and the Prophets.  If these men were to be his witnesses they would have to be strong in faith.  They will need time.  Our Lord will come again.  He will prepare them for the gift of his Spirit who will set their hearts on fire.
We have only to read the Acts of the Apostles to see how these disciples were transformed.  They travelled near and far to continue the mission of Jesus.  As they went they prepared others to follow in their footsteps.  To-day it is our turn to keep the flame of faith alive and hand it on to the next generation.
Prayer
Lord we thank you for the gift of your Holy Spirit. May he renew the Church in its missionary fervour during this Easter season so that all people may come to a knowledge and love of you. Amen