Prayer of the Day
Easter Thursday
March 31st, 2016
"… Then they told what had happened on the road, and how he had been made known to them in the breaking of the bread. "
Luke 24 : 35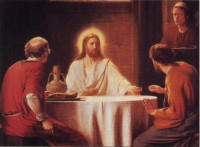 Today's Scripture excerpt is a continuation of yesterday's account of the event on the Road to Emmaus. The two disciples had concluded the account of the event by saying that they had recognised Jesus in 'the breaking of the bread'.
The Gospel recalls the full setting of the Eucharist as it is enacted in the Church.  The first reading of Scripture and its explanation as lived today constitutes the liturgy of the Word.  Then follows the ritual of the sacred meal and, finally, at the time of consecration and communion, Jesus physically disappeared, as at Emmaus.
All of life's journeys are lived again in the moment of liturgy and prayer. The Eucharist prepares us to return to daily life with a more sensitive awareness of Jesus' presence.
Prayer
Lord, who are we that you should be mindful of us and care for us? Amen