Prayer of the Day
Easter Thursday
April 24th, 2014
""The disciples told their story of what had happened on the road and how they had recognised him at the breaking of bread.""
Luke 24 : 35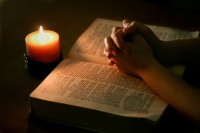 After the two disciples on the Road to Emmaus had explained their sadness and confusion, Jesus responded by referring to Scripture and applying it to his ministry. When we are puzzled by questions or problems, we too can 'search the Scriptures' and find authoritative help. Like these two disciples, if we do not understand what the Bible means, we can turn to other believers who know the Bible and have the wisdom to apply it to our situation.
Jesus reintroduced the two disciples to the Old Testament. The story of Christ is woven through all the Scriptures: He is the central theme that binds them together.
It is interesting to observe that only one of the disciples – Clopas – is named. That allows each one of us to take our place beside Clopas and listen to Jesus as He journeys with us through the Scriptures.
Prayer
Lord, help me to believe that I can be that other disciple, journeying with you as you open the Scriptures to me. Amen