Prayer of the Day
Easter Tuesday
April 7th, 2015
""Jesus said to her; 'Mary.' She turned and said to him; 'Rabbouni' (which means Master).""
John 20 : 16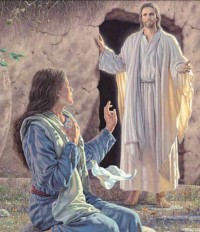 John's Gospel presents Mary Magdalene as the first person to whom Jesus appears after his Resurrection.  Like the other women Mary had gone to the tomb very early on the Saturday morning and had seen the empty tomb.  She was convinced that somebody had taken the Lord's body and she was determined to find it.  It was while she was searching that Jesus himself appeared to her in the garden.  At first she didn't recognize him but when he called her name; 'Mary' she knew him and falling at his feet she greeted him as her Lord and Master.
During his public life Our Lord had promised his disciples that those who ask would receive and those who search would find.  Well Mary's perseverance in searching for her Lord was certainly rewarded a hundred fold.  She was the first to experience the deep joy of encountering the Risen Lord.  But this grace was not just for herself.  Like the other women Mary was given a mission.  She was sent to the Apostles to tell them the Good News that the Lord had risen.  Like Mary Magdalene each one of us has been called by name and sent to proclaim the Good News.  As Pope Francis reminds us 'all of us are asked to obey his call to go forth from our own comfort zone in order to reach all the 'peripheries' in need of the light of the Gospel.' (Joy of the Gospel No. 20)
However,  we will not be good messengers unless we have first encountered the Lord – experienced his unconditional love.  So let us pray that our relationship with the Lord will grow and deepen during this Easter Season.
Prayer
"Like the deer that yearns for running streams, so my soul is yearning for you my God. My soul is thirsting for God, the God of my life. When can I enter and see the face of God?" (Psalm 42 v.1) Amen