Prayer of the Day
Easter Tuesday
March 29th, 2016
"Mary Magdalene went and announced to the disciples, "I have seen the Lord." "
John 20 : 18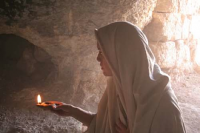 In appearing to Mary Magdalene Jesus instructs her to "go to my brothers and sisters and tell them, 'I am ascending to my Father and your Father.'" We, too, must seek for Jesus and long for his presence. It was only when Jesus appeared to Mary Magdalene and spoke her name that she discovered Jesus with love and veneration. Mary would not have found Jesus unless he first spoke her name.
We, too, need to be found by Jesus. He finds us not that we may selfishly possess him but in order that we may share this joy with others. At first Mary was ridiculed by the disciples when she reported the marvellous event of Jesus' resurrection.  To be found by Jesus, we must allow our hearts and minds to be flooded with his light.  We, too, may reach the conviction that Jesus has found us and spoken our name.
Prayer
Lord, may I recognise you each day in the many lovely ways you fill my life with joy and hope. Amen