Prayer of the Day
Easter Tuesday
April 22nd, 2014
""Hearing this, they were cut to the heart and said to Peter and the Apostles, 'What must we do, brothers?' 'You must repent,' Peter answered.'""
Acts 2 : 37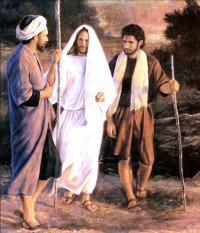 When the apostles first began their ministry after Pentecost, their first goal was to revisit the story of the Resurrection of Jesus. They recalled his Passion and death, in order to explain how the Messiah's life ended the way it did. For this purpose they revisited and searched the Scriptures, as Jesus did with the two disciples on the Road to Emmaus. The divinity of Jesus grew within the awareness of the apostles.
Peter was more concerned with the question how Jesus' violent death could fit into God's plan for Israel.
After Peter's powerful, Spirit-filled message, the people were deeply moved and asked. "What must we do?" this is the basic question we must ask. It is not enough to be sorry for our sins – we must let God forgive them, and then we must live like forgiven people. Has God spoken to you through his word, through the words of another believer?
Prayer
Thank you, Lord, for the many people we meet on the road of life who open up new ways of mediating God's love to others. Amen