Prayer of the Day
Easter Wednesday
April 8th, 2015
""'Stay with us, because it is almost evening and the day is now far spent.' So Jesus went in to stay with them.""
Luke 24 : 29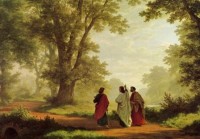 To-day's Gospel tells the story of two very sad and discouraged disciples who were leaving Jerusalem on the Sunday evening having lost all hope in the man whom they thought would be their Saviour.  As they made their way to the village of Emmaus the Lord Jesus joined them but they didn't recognize him.  So Jesus began to dialogue with them.  His gentle presence and listening ear enabled them to express their grief and disillusionment.  Having told their story they are now ready to listen to their companion who offers them a life giving interpretation of Good Friday.  As Jesus explains the Scriptures to them their sadness is lifted and they experience a new hope.
When they reached the village they invited their companion,  no longer a stranger but friend to join them for a meal and rest.  It would seem that Our Lord was only waiting to be asked.  We are told he joined them at table where 'he took bread,  blessed and broke it and gave it to them.' (Luke 24 : 31)  At that moment the eyes of their mind were opened and they knew at once who their companion was.  They didn't waste time regretting that he had already vanished but set out at once to return to Jerusalem and share the Good News with the Apostles.
The Emmaus story throws light on what happens in the Eucharist.  We bring our joys,  sorrows,  worries, to our Sunday worship.  We open our hearts to God's word proclaimed and broken.  We celebrate a sacred meal – nourished by the Body of Christ,  we are sent out to bring the Eucharist to others – to be the Eucharist for others.
Prayer
Lord we believe that you are risen and are still with us. We thank you for the many ways in which you are present in our lives. Above all, we thank you for the gift of the Eucharist. May we grow daily in our appreciation of this great gift. Amen