Prayer of the Day
Easter Wednesday
March 30th, 2016
"While they (the two disciples) were talking and discussing, Jesus himself came near and went with them, but their eyes were kept from recognising him. 5-16"
Luke 24 : 15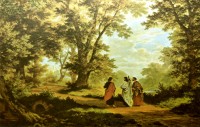 Today's Gospel text gives us the experience of the two disciples on the road to Emmaus. They were leaving Jerusalem after the death of Jesus, convinced that the story was over. All their hopes and dreams had been dashed when Jesus was crucified. As they were revisiting the events of the last few days, Jesus joined them. He invited them to tell the story. Somehow, they were reluctant to part with him, and they invited him to share a meal with them. It was during this meal, at the breaking of the bread, that their eyes were opened and they recognised him.
They knew then why their hearts had been 'burning within them' when he opened the Scriptures to them as they shared the journey with him.
Prayer
Lord, help me remember that you are always with me in the circumstances of my life. Amen