Prayer of the Day
Feast of All the Saints of Ireland
November 6th, 2015
"The peoples will proclaim their wisdom, the assembly will celebrate their praises."
Ecclesiasticus (Sirach) 44 : 15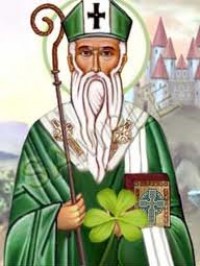 Let us sing the praises of our ancestors – Celtic heroes of faith!   For the Feast of All the Saints of our land,  I am presenting a short reflection on St. Patrick,  the patron Saint of Ireland.
The missionary journeys and activities of St. Patrick both in Ireland and across Europe are exceptional.  On the Hill of Tara where the Kings of Ireland were crowned,  St. Patrick decided that the time had come for the Light of Christ to replace the light of pagan fires.   He lit his own Paschal fire on the Hill of Slane.  It was a clear message of his challenge;  the new Light flooded the whole of Ireland.  Patrick put all his trust in God.  He was a man for whom God was everything.  He was clearly a great missionary.  He put on the 'armour' of God;  he composed the Breastplate based on the Trinity: "I arise today through God's strength"….    Patrick was a man who focussed his life on Jesus.  He knew he was never alone.  He knew what it meant to belong to the 'communion of saints.'
Prayer
"I arise today through the strength of heaven."