Prayer of the Day
Feast of Bl. Columba Marmion
October 3rd, 2016
"A lawyer stood up to test Jesus. He asked; 'What must I do to inherit eternal life.'"
Luke 10 : 25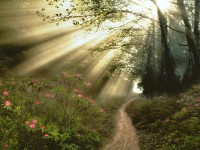 In response to the question Jesus narrated the parable of the Good Samaritan.   Jesus wants us to love and help those in need.  We must become a neighbour to those who are in need by offering them the necessary help.
Today is the Feast of Bl. Columba Marmion, 1858 – 1923.  He was born in Dublin and served as curate in Dundrum Parish,  then as professor in Holy Cross College, Clonliffe before going to Belgium.  His trilogy,  Christ,  the Life of the Soul,  Christ in His Mysteries and Christ, The Ideal of the Monk,  have been some of the most influential spiritual writings of the twentieth century.  His writings,  letters and retreats fulfilled his aim in life;  to bring people to God and to bring God to people.
Prayer
Grant us, Lord to treat everyone with neighbourly kindness and concern. Amen