Prayer of the Day
Feast of Bl. Columba Marmion
October 3rd, 2014
""If I take the wings of the dawn and dwell at the seas furthest end, even there your hand would lead me, your right hand would hold me fast.""
Psalm 139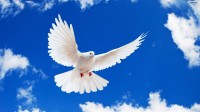 The psalms are perhaps the most significant and influential collection of religious poems ever written.   They are close to the earthly side of our existence.   Our own prayer today,  to be authentic,  must absorb the spirit of our ancestors in the faith.  Jesus quoted more often from the psalms than from any other Old Testament Book.  St. Patrick also quoted copiously from the Psalms.  We,  too,  need to know how each psalm impacts our lives and our styles of prayer.
The psalm selected for today's liturgy is one of the most appealing,  prayerful poems of the entire Old Testament.  Sometimes we don't let people get to know us completely because we are afraid they will discover something about us that they won't like.  But God already knows everything about us,  and still he accepts us and loves us.  God is with us through every situation,  in every trial – protecting,  loving and guiding us.  He knows and loves us completely.
When you feel worthless,  remember that God's spirit is ready and willing to work within you.
Prayer
"I thank you Lord, for the wonder of my being." Amen