Prayer of the Day
Feast of Mary, Mother of God
January 1st, 2014
""Mary treasured all these things and pondered them in her heart.""
Luke 2 : 20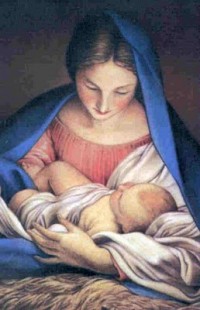 Mary gave life to the world,  when she accepted to be the mother of God.  She is truly the mother of God and our mother too for Christ gave her to us as he was dying on the Cross when he said to St. John; "Behold your Mother." (John 19 : 27)
Let us take Mary with us as our guide on our journey through this New Year beginning for us to-day.  For the child she brought into our world united the visible and the invisible world and joined time to eternity.   Jesus is the alpha and the omega,  the beginning and the end.  He is not just Jesus of Nazareth,  he is the cosmic Christ.  He is the one of whom Isaiah said that when he came; "Every valley would be filled in and every mountain and hill laid low." (Isaiah : 40 : 4)  Christ would fill the valleys with hope and flatten the mountains of injustice of every kind.
Jesus is the person by whom and in whom the Creator entered our human world to live among us.  Jesus is the eternal flame that burns in every living heart.  The message of Christmas is that Jesus has come to live with us forever more.  Mary lived with that message in her heart every day of her life.  Let us follow Mary's example and walk with her through the year ahead of us in the light of God's love.
Prayer
Pray for us Mary, Mother of God. Help us to live like you in the daily presence of Jesus. May his coming among us be the light that guides us in our journey to eternity. Amen