Prayer of the Day
Feast of Our Lady of Fatima
May 13th, 2016
"Feed my lambs, feed my sheep."
John 21 : 15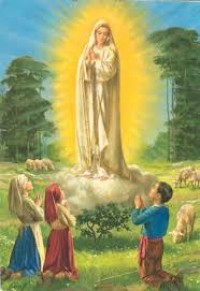 Jesus calls Peter and asks him three times: "Do you love me?" Only after having received three times the same affirmative response, Jesus entrusts to Peter the mission of taking care of the lambs. In order to be able to work in the community Jesus does not ask us many things. What he asks of us is to have much love!  Peter also becomes a "Beloved Disciple" and receives the order to take care of the lambs. For the communities of the Beloved Disciple the force which supports and maintains unity is not the doctrine, but love.  To love is, above all, a profound experience of relationship among persons in which there are similar sentiments and values: joy, sadness, suffering, growth, renunciation, fulfilment, commitment, etc.
The apparitions to the three children of Fatima took place in the summer of 1917,  beginning on 13 may to 13 October when 'the Lady' identified herself as Our Lady of the Rosary and called for prayer and conversion.
Prayer
Let us remember today Pope Francis, that the Holy Spirit may guide and direct him in the many difficult decisions he has to make. Amen