Prayer of the Day
Feast of Our Lady of Knock
August 17th, 2015
"What more do I need to do ?"
Matthew 19 : 20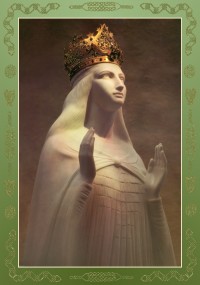 Here a rich young man enters into serious dialogue with Jesus about possessing eternal life. He admits he has kept all the laws but he wants to do something more. He does not like Jesus advice to give everything to the poor.  
Today is the feast of Our Lady of Knock.  The story of Knock began on the 21 August 1879,  when Our Lady,  St. Joseph and St. John the Evangelist,  appeared at the south gable of Knock Parish Church.  This miraculous apparition was witnessed by fifteen people,  young and old.  Knock is an internationally recognised Marian Shrine and was visited by St. John Paul II as part of his 1979 papal pilgrimage to Ireland.
Prayer
Jesus our treasure, keep our eyes fixed on you and make us attentive to your advice. Enlighten the youth of this generation that there is more to live than wealth. Let the older generation be an example. Amen