Prayer of the Day
Feast of Our Lady of Lourdes – World Day of Prayer for the Sick
February 11th, 2016
"Oh come to the throne of grace, to Mary our Hope in life in whom our Salvation is sure."
Hymn to Our Lady of Fatima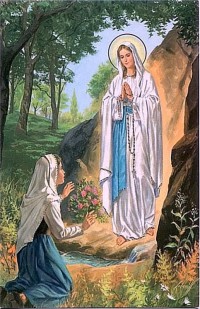 Pope Francis says; "Be acquainted with reality."   To understand we ought to see reality from various view points.  Some line of real contact with the poor is necessary.  For Pope Francis this is very important,  to know reality is very important,  to spend time thinking of the poor in order really to understand the life experience of people.  Looking at television everyday,  the news has pictures of the poor who struggle and are helped to survive.
Pilgrims since the people of God existed go and are walking,  driving,  flying to Lourdes with the sick.  The story of Bernadette awakens our consciousness of how this young girl was privileged to see Our Lady in a grotto in Lourdes.   The vision was real,  true and she believed what she saw and heard.   Pilgrimages  are organised since then from many countries to go to Lourdes with those who need healing and are cured from illness.
We pray for all who are sick and lift them up and pray with all the people on this day that the Church names as "World Day of Prayer for the Sick."
Prayer
For poor, sick, afflicted, your mercy we crave. And comfort the dying, thou light of the grave. Ave, Ave, Ave, Maria. Ave, Ave, Ave, Maria