Prayer of the Day
Feast of Our Lady of Mount Carmel
July 16th, 2016
"Here is my beloved, with whom my soul is well pleased."
Matthew 12 : 18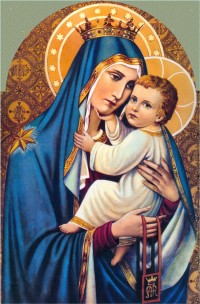 This is God's invitation to us all without exception.  God loves every one of us.  We are all his children.  His special care is for those who are over-burdened and oppressed.  As Pope Francis keeps telling us God has a special love for the poor and the needy.  God's providence is always at work in our lives.  We must keep reminding ourselves that nothing is impossible to God.  Having given us his son, Jesus,  will he not give us everything else as well.  The choice is ours then either to accept God in our lives or reject him.  As we are made for God there will always be a natural longing in our hearts for God.  Prayer is our way to keep in touch with the God who loves us with a love beyond all telling.
Our Lady of Mount Carmel is the title given to the Blessed Virgin Mary in her role as patroness of the Carmelite Order. The first Carmelites were Christian hermits living on Mount Carmel in the Holy Land during the late 12th and early to mid 13th century. They built in the midst of their hermitages a chapel which they dedicated to the Blessed Virgin, whom they conceived of in chivalric terms as the "Lady of the place." Our Lady of Mount Carmel is the patron saint of Chile.
Prayer
'Hail Mary, full of grace, the Lord is with thee..... Amen