Prayer of the Day
Feast of Our Lady of Sorrows
September 15th, 2015
"Near the cross of Jesus stood his mother."
John 19 : 25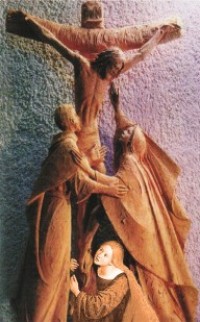 Devotion to Our Lady of Sorrows dates back to the Middle Ages when it went hand in hand with an intensity of devotion to the Passion of Christ.  Mary was seen as participating in the sufferings of Jesus as she stood at the foot of the Cross.  The sorrows of Mary recorded in Scripture became the rosary of the the seven sorrows.  (1) The prophecy of Simeon (Luke 2:25-35)   (2). The flight into Egypt (Matt. 2:13-15)   (3). The loss of the child Jesus in Jerusalem (Luke 2:41-50)    (4). The meeting of Jesus and Mary on the Way of the Cross (Luke 23:27-31; John 19:17)    (5). The crucifixion ( John 19:25-30)     (6). The body of Jesus being taken down from the Cross (Luke 23:50-54; John 19:31-37)    (7). The burial of Jesus (Luke 23:50-56; John 19:38-42; Mark 15:40-47)        As a liturgical feast it was promoted by the Servites in order to intensify  the devotion.
Prayer
Holy Mary, Our Lady of Sorrows, teach us to understand the value of the cross in our lives. We ask this through Christ, our Lord. Amen.