Prayer of the Day
Feast of Our Lady of the Rosary
October 7th, 2015
"And the angel said to her; 'Do not be afraid Mary. For you have found favour with God. And you will conceive in the womb and bear a son. And you shall call his name Jesus.'"
Luke 1 : 26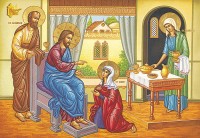 Mary accepted God's invitation to become the earthly Mother of his Son.   Mary is the person in whom Luke is most interested in the first two chapters of his Gospel.  Although his name is not mentioned God is the one who is planning all these events.  Who sent the Angel Gabriel ?   God of course,  he is in sole charge here.  Gabriel is his messenger.   Mary acknowledged the wondrous things God had done for her.  Her life was changed forever.  She said;  "Holy is his name."  This is the most momentous moment in the history of the world.  God in the person of his Son Jesus has entered our earthly domain,  joined mankind and become one with us.  Now the prophecies of Isaiah and many another prophet are being fulfilled.  The long awaited messiah has arrived.  He is in the womb of Mary.  The living God is with us – Emmanuel.  He has come that we may have life and have it more abundantly.
Mary is the unique person who was worthy to be the Mother of God.  It was she who brought Jesus to us.  She is our Mother also given to us by Jesus as she stood at the foot of the Cross.  Like every mother she wants what is best for her children and that is our eternal happiness.   Over the last two centuries Mary has appeared in many places such as Lourdes,  Knock,  Fatima,  Medjugorje and called us to prayer and penance to atone for our own sins and the sins of the world.
Prayer
"Oh, Mary, conceived without sin pray for us who have recourse to thee." Amen