Prayer of the Day
Feast of Solemnity of Mary the Mother of God and World Peace Day
January 1st, 2015
""Mary treasured all these words and pondered them in her heart.""
Luke 2 : 19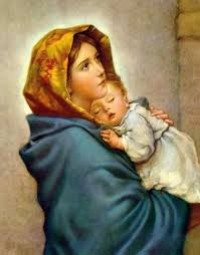 The  Gospel speaks of the earthly reality of Jesus and his mother. "Let us go and see what God has made known to us," say the shepherds in great excitement after hearing the message of the angel and the sudden outbreak of the first "Gloria" being sung. Perhaps what they discovered must have seemed at first an anti-climax. Just a man, a woman and a baby lying in a feeding box in a dark and smelly cowshed.   No words of Mary or Joseph are recorded.     
Mary's greatness was in her unconditional response to the call of God, in her hearing and obeying the word of God. This she did from the moment of saying 'Yes' at the annunciation to her standing silently and in grief at the foot of the cross.
 Mary had a unique relationship with the Blessed Trinity as daughter of the Father, mother of the Son, and spouse of the Holy Spirit. Today's feast is one of great joy for Mary herself as Jesus' Mother and for us who owe so much to her total co-operation with God's  loving plan for us.
 As we leave the old year there are two things we could remember:
– To look back at all the events, big and small of the past year and say THANKS.
– To look forward with expectation and surrender to all that will come and say YES.    Happy New Year to one and all.
Prayer
"The Lord bless you and keep you; the Lord make his face to shine upon you, and be gracious to you; the Lord lift up his countenance upon you, and give you peace." Amen