Prayer of the Day
Feast of Ss. Christopher Magallánes, Priest and Companions, Martyrs
May 21st, 2016
"If anyone is discouraged they should pray. The prayer of the good person has great power, provided they persevere. "
James 5 : 16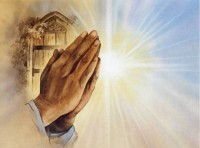 What is prayer ? What is its value, and how can it help us?  Prayer is our attempt to focus on God and the things of God. It can be an internal conversation with our Living Creator, and a more conscious awareness of His Presence in all Creation. In this reading we are encouraged by James – cousin of the Lord, to persevere with our prayer even when there are no visible results.  Its worth and value are gradually reflected in our lives and in those for whom we pray.
Today is the feast of Ss. Christopher Magallánes and Companions.  These twenty five priests and laymen were executed in 1927 in Mexico.
Prayer
Lord Jesus we pray for all who find prayer difficult, and those who neglect prayer. Give us a renewed love for prayer and grant that our prayers may always be answered, according to your will. Amen