Prayer of the Day
Feast of Ss. Michael, Gabriel and Raphael, Archangels
September 29th, 2014
""In all truth I tell you shall see the Heaven open and the angels descending over the Son of man.''"
John 1 : 47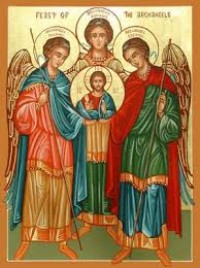 Nathaniel on meeting Jesus is surprised at Jesus' greeting and asks Jesus how he knows him. In his reply Jesus lets him know he will see greater things even angels. It is only natural that Nathaniel stays with Jesus whom he accepts as the Son of God.
Today is the Feast day of St. Gabriel who brought the message to Mary at the Annunciation. Gabriel is patron of telecommunications,  radio and t.v. workers.  St. Raphael is patron of nurses,  physicians,  the blind.  St. Michael is protector of Christians in general and soldiers in particular.  He is patron of radiologists,  the sick and paratroopers.
Prayer
Jesus, give us the faith of Nathaniel you who connect heaven and earth. Continue to let us be surprised by you in our daily lives. Help us to recognise you always as Son of God and son of man. Amen