Prayer of the Day
Feast of Ss. Michael, Gabriel, Raphael, Archangels
September 29th, 2016
"The Lord rewarded me according to my righteousness."
Psalm 18 v.20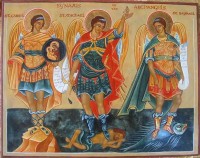 Talking about the Word isn't enough,  we need to do what we say we believe.  God will bless us if we are people of 'integrity.'  As believers,  we need to keep our promises.  In this way we will honour God and keep going in the right direction.
Today is the Feast of Archangels, Gabriel,  who brought the message to Mary at the Annunciation (Patron of telecommunications,  radio and TV workers),  Raphael,  who was guide to Tobias (Patron of nurses,  physicians,  the blind) and Michael,  who has been venerated as protector of Christians in general and soldiers in particular (Patron of radiologists,  the sick,  paratroopers).
Prayer
Jesus humble of heart make my heart like unto thine. Amen