Prayer of the Day
Feast of Ss. Muredach, Attracta, Lelia and St. Jane Frances de Chantal
August 12th, 2015
"Where two or three meet in my name, I shall be there with them."
Matthew 18 : 20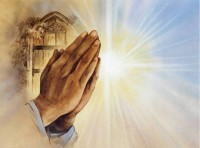 Jesus looked ahead to a new day when he would be present to his followers not in body, but through his Holy Spirit, in the body of believers (the church); the sincere agreement of two people is more powerful than the superficial agreement of thousands. Because Christ's Holy Spirit is with them.  Two or more believers, filled with the Holy Spirit, will pray according to God's will, not their own. Thus, their requests will be granted.
The Cell Movement in the Church is a response to this recommendation to meet in small groups or cells to share faith experiences and pray for those who need to experience the presence of God in their lives.
Prayer
We pray for homes where families and people gather to pray in order to discover the presence of God in their lives. Amen