Prayer of the Day
Feast of Ss. Paul Miki and Companions, Martyrs
February 6th, 2016
" You must come away to some lonely place all by yourselves and rest for a while."
Luke 6 : 30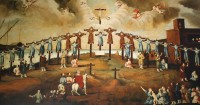 Jesus calls a halt to his work and that of his disciples but trying to find a quiet place which was not easy.  The people were hungry for his words and watched his every move.  There are times in our lives when we see the need to withdraw but often we do not listen.
Today is the feast of Ss. Paul Miki and Companions,  martyred at Nagasaki, Japan in 1597.  Twenty-six martyrs of Japan were crucified on a hill,  now known as the Holy Mountain,  overlooking Nagasaki.   Among them were priests,  brothers and laymen,  Franciscans,  Jesuits and members of the secular Franciscan Order;  there were catechists,  doctors,  simple artisans and servants,  old men and innocent children – all united in a common faith and love for Jesus and his Church.  Brother Paul Miki,  a Jesuit and a native of Japan,  has become the best known among the martyrs of Japan.
When missionaries returned to Japan in the 1860s,  at first they found no trace of Christianity.  But after establishing themselves they found that thousands of Christians lived around Nagasaki and that they had secretly preserved the faith.  Beatified in 1627,  the martyrs of Japan were finally canonized in 1862.
Prayer
Jesus I invite you into my heart and soul. Let me spend time with you away from the bustle and hurry of life. Show me what is important and help me in my daily struggles with myself. I offer every hour of my daily life to you. Be with me as I go about my daily life. Let each step and each action and thought be for you now and always. Amen