Prayer of the Day
Feast of St. Agnes, Virgin & Martyr
January 21st, 2016
"You are the Son of God"
Mark 3 : 11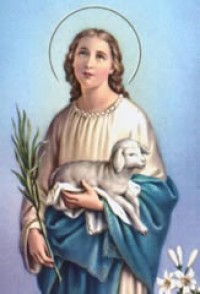 In today's Gospel,  Jesus is at the centre of a great throng of people,  coming from every direction,  pressing in upon him,  seeking simply to touch him.  His only escape is a boat his disciples are to prepare that will allow him to speak to the crowd a distance from the shore.  Knowing that he had cured many of their afflictions and delivered many from unclean spirits,  those who were sick and suffering,  crowded round him,  wanting to touch him.
When Jesus healed someone,  that person was touched by God's healing and transforming presence.  Jesus came to heal the whole person,  soul and body.  In the sick he saw those who were most in need of his care and healing power,  and also those most able to accept it.  He called his disciples to have a special care for them.  He called us too,  to have a constant love and care for all who are sick,  for all who are in need of God's healing power.  In our prayers and in our actions,  we can bring the Kingdom of God close to them.
Today we celebrate the feast of St. Agnes,  who was martyred for her virginity in the last persecutions in Rome.  She is the patron of young girls and gardeners.
Prayer
Lord, show your healing power to all who are sick. Amen