Prayer of the Day
Feast of St. Aidan, Bl. Margaret Ball & Bl. Francis Taylor, Martyrs
January 30th, 2016
"Can you not buy five sparrows for two pennies? Yet not one of them is forgotten in God's sight."
Luke 12 : 6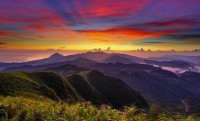 The Lord invites all of us to be attentive to the beauty that there is in the world,  because He Himself was in constant touch with nature,  lending it an attention full of fondness and wonder.   As He made His way throughout the land,  He often stopped to contemplate the beauty sown by the Father,  and invited His disciples to perceive a divine message in things.  Jesus lived in harmony with creation;  the flowers of the field and the birds which His human eyes contemplated and admired,  are imbued with his radiant presence.
Today is the feast of St. Aidan who founded a monastery at Ferns.  He became Bishop there and was renowned for his generosity and kindness.   Bl. Margaret Ball and Francis Taylor both suffered imprisonment for their Catholic faith and died because of the harsh conditions they endured while in prison.
Prayer
Look on us O Lord and enfold us with the rainbow of your love. Amen