Prayer of the Day
Feast of St. Aidan of Lindisfarne, Bishop
August 31st, 2016
"I must proclaim the good news of the Kingdom of God to other cities also; for I was sent for this purpose."
Luke 4 : 43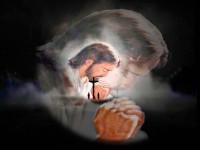 Jesus performs another exorcism,  following closely His first recorded cure in Luke 4 : 34-35.  Here,  He silences demons.  They come out from several persons shouting; 'You are the Son of God.'   Jesus does not want the crowds to hear the demon's declaration.   He does not wish to be mistaken for a political figure.  His mission for the Father is to 'proclaim the Good News of the Kingdom of God.'  The demons shout as they try to disrupt Jesus' Mission.  Jesus goes quietly to a deserted place to speak with His Father.  His triumph over the devils temptation in the desert shows us the power of prayer.
St. Aidan of Lindisfarne was of Irish descent and was a monk of Iona.  When Oswold,  King of Northumbria,  returned to his throne from Iona in 634,  he invited Aidan to come to reconvert his people.  With the aid of the King as interpreter he was very successful in his mission.  He died in 651.