Prayer of the Day
Feast of St. Albert the Great, Bishop & Doctor of the Church
November 15th, 2016
"I must stay at your house today."
Luke 19 : 6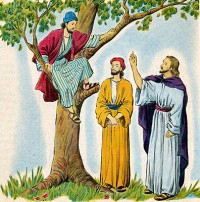 Our God is often described as the God of Surprises.  Well someone who experienced God in this way was a wealthy tax collector named Zacchaeus.  Now Zacchaeus was a small man but he had a big desire to see Jesus.  So great was his desire that he actually climbed a sycamore tree so that he could get a glimpse of Jesus as he passed by.  Imagine his surprise as he saw Jesus look up at him through the branches,  call him by name and announce that he was planning to visit him that very day.  No wonder Zacchaeus hurried down and give him a great welcome into his home.
It seems that all Jesus needs is our desire to meet Him and He's only too delighted to come into our hearts and stay with us.  So let us invite Him into our hearts today.
Prayer
"My soul is thirsting for God, the God of my life. When can I enter and see the face of God?" Amen (Psalm 41 v.2