Prayer of the Day
Feast of St. Alphonsus Liguori
August 1st, 2014
""You are the Light of the world.""
Matthew 5 :13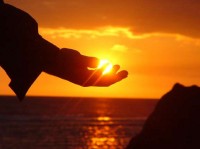 What does it mean for you to claim today that you are the light of the world?  
Letting our light shine is a matter of vocation and service, not pride. Sadly, we often forget our identity as God's light in the world, and we let ourselves live by fear.  Though we may doubt our abilities and hide our gifts, God's light still shines, constantly illuminating and transforming our lives even when we are unaware of its power. . . .
God's light radiates from within our lives. We have the ability to let our light shine in varying degrees of brightness. If we truly see the light in others we will treat them with respect and dignity. In every encounter, pause for a moment and take notice of God's presence in another, and then act as if you are in the presence of holiness.
Prayer
Lord, we pray that you will help us to accept your challenge of openness, and let us fill the world with love and joy. Amen