Prayer of the Day
Feast of St. Andrew Dung-Lac and Companions
November 24th, 2014
""He noticed a poverty-stricken widow putting in two small coins.""
Luke 21 : 2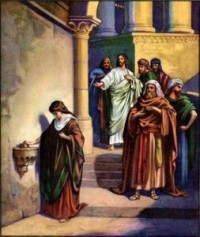 "As Jesus looked up he saw rich people putting their offerings into the treasury; then he happened to notice a poverty – stricken widow putting in two small coins, and he said 'I tell you truly, this poor widow has put in more than any of them; for these have all contributed money they had over, but she from the little she had has put in all she had to live on." (Luke 21 : 1-4)
This section of the Gospel is evocative, it awakens our conscience to justice for the needy in society, as portrayed in the 'widow.' Jesus in his love for the poor draws attention to the religious teaching which has caused a widow to give up all she has to preserve an institution that is dying and unjust. Jesus' praise for such generosity reflects his life and ministry. W too are called into this life that is God's way for us.
Prayer
God our Father, may our prayer be thankfulness to Jesus for his love and commitment to the needy in society. Amen