Prayer of the Day
Feast of St. Angela Merici
January 27th, 2016
"His Mother and brothers arrived and standing outside, sent in a message asking for Him; 'Your Mother and brothers and sister are outside waiting for you.'"
Mark 3 : 31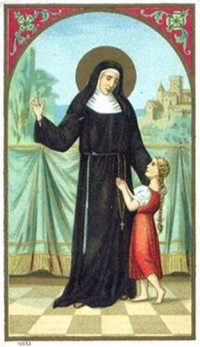 Jesus came on and turning to the crowd declared; 'These are my brothers and sisters.'  Fidelity to God's will forms a family of all followers of Jesus.  Jesus identifies a true disciple by fidelity in the day to day routine of life.  The true and Godly decision is reached through a combination of courage and tenderness,  a blend that is seen in each action of Jesus.
Today is the feastday of St. Angela Merici,  founder of the Ursulines.  She devoted herself to Christian education based on love,  kindness with firmness,  and concern for the individual.
Prayer
Lord as we grow in fidelity let us encourage one another in Christ. Amen