Prayer of the Day
Feast of St. Anthony of Egypt
January 17th, 2014
""Some people came bringing to him a paralysed man… When Jesus saw their faith, he said to the paralysed man, 'Your sins are forgiven.' … The people glorified God saying, 'We have never seen anything like this.'" Mark 2: 3, 12"
Mark 2 : 3, 12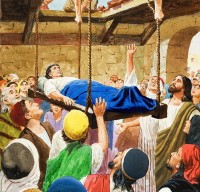 The house where Jesus was speaking to the people was so crowded that the four men carrying the paralysed man on a mat had to make an opening in the roof above Jesus in order to lower the paralysed in front of Jesus. Seeing the faith of the four men, Jesus said to the paralysed man, "Son, your sins are forgiven."  Some teachers of the law were thinking to themselves that Jesus was blaspheming – only God could forgive sin.  In order to convince them that he had the power to forgive sins, he told the paralytic to take the mat on which he was lying and go home.
The paralytic's need had moved his friends to action. The bearers were convinced that Jesus could cure their friend. Jesus' healing of the paralytic is a sign of the full salvation which God promises. Jesus can both forgive sins and heal the body.
We need to ask ourselves the question: Does another person's need move us to compassion and lead us to action?
Prayer
Lord, help me to follow your example by showing compassion to those who are weighed down with worry and distress. Amen