Prayer of the Day
Feast of St. Anthony of Padua, Priest and Doctor of the Church
June 13th, 2014
"Elijah said; "I am filled with a jealous zeal for the Lord of hosts.""
1 Kings 10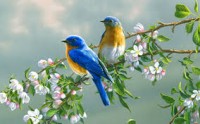 Would that we had more Elijah's who yearn to make God known and loved.  This requires a strong faith.  Faith is a free gift of God.  It is life in the Spirit.  Christ came that we might have that life of faith and have it in abundance.
When on earth,  Jesus could not work a miracle when Faith was missing.  This happened when he visited Nazareth,  his home place.  Because he didn't work miracles,  they tried to stone him.   When he told the people,  he would give them his flesh to eat,  even some of his devoted followers deserted him.  They thought this was cannibalism.  So, Jesus turned to the Apostles and said, "Will you also go away?"  Peter answered,  speaking for the twelve, "Lord, to whom shall we go?  You have the words of eternal life."  Christ praised Peter's faith.
Those without faith seek fulfilment in riches,  pleasure or some other worldly pursuit.  St. Augustine says, "Our hearts are made for thee O Lord and they will never rest until they rest in you."   How barren must be the life of those without faith.  They know not God.  Faith is believing Jesus and believing in his Word.  For God is truth.  To have a strong faith,  we need a personal relationship with Jesus.  We must get to know Jesus.  That knowledge is got through prayer.
Pope Francis in his Encyclical, "The light of faith," tells us that, "we believe Jesus because he is truthful.   We believe in Jesus,  when we welcome Him into our lives,  and follow in his footsteps."  The Sacraments nourish and strengthen our faith especially the Eucharist in which we receive God himself.  To be a Christian is to be a faith filled believer in Christ.   Let us treasure our faith.  It is the pearl of great price and you can lose it.  You wont if you keep close to God through prayer.  For God has no favourites.  We are all equal in his sight.  So,  he loves us all equally.  Let us rejoice in our faith and be happy as we pray:
Prayer
Risen Lord help us to believe that you are always with us. And that nothing in life or death can separate us from you. Amen