Prayer of the Day
Feast of St. Apollinaris, Bishop & Martyr
July 20th, 2015
"Some of the scribes a d Pharisees spoke up. "Master," they said, "we should like to see a sign from you."
Matthew 12 : 38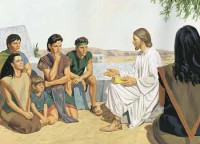 The Pharisees were asking for another miraculous sign, but they were not sincerely seeking to know Jesus. Jesus knew they had already seen enough miraculous proof to convince them that he was the Messiah, if they would just open their hearts. But they had already decided not to believe in him, and more miracles would not change that.
Many people have said, "If I could see a real miracle, then I could really believe in God." But Jesus' response to the Pharisees applies to us. We have plenty of evidence – Jesus' birth, death, and resurrection and centuries of his work in believers around the world. Instead of looking for additional evidence or miracles, accept what God has already given and move forward. God may use your life as evidence to teach another person.
Prayer
Lord, help me to seek you with sincerity and find you in the events of each day. Amen