Prayer of the Day
Feast of St. Asicus, Bishop
April 27th, 2016
"Make your home in me, as I make mine in yours."
John 15 : 4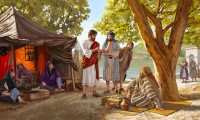 We all know what our homes means to us.  It is a happy place where we can be ourselves.  Jesus is here inviting us to make our home in Him as He makes His home in us.  Often we close the door on Him and think we are all right on our own,  but life soon shows us we are not.
Today is the feast of St. Asicus,  who was St. Patrick's expert craftsman in metal work and accompanied him on his journeys.  He was left in charge of the Church in Elphin which St. Patrick is said to have founded.
Prayer
Jesus I invite you to make your home in me. It is not the first time I am doing this but I know from experience I keep falling behind and do not always welcome you. I beg of you to strengthen me so that I never, ever leave your home, and if I do, I beg you to call me back because I know your welcome is always there. Amen