Prayer of the Day
Feast of St. Barnabas Apostle
June 11th, 2015
""You received without charge, give without charge.""
Matthew 10 : 7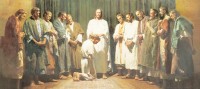 Jesus said to his disciples: Freely you have received, freely give. What they had received from Jesus they must pass on to others without expecting remuneration.  They must show by their attitude that their first interest is God, not material gain. They must do their work, not for what they can get out of it,   without expecting special privileges or reward.  "Poverty of spirit" frees us from greed and preoccupation with possessions and makes ample room for God's provision.   
God gives us his word that we may have life in him.  He wills to work through and in each of us for his glory.  
Prayer
Lord, may the joy and truth of the gospel transform my life. Grant that I may spread your truth and your light wherever I go. Amen