Prayer of the Day
Feast of St. Barnabas, Apostle
June 11th, 2014
""In the days to come I will pour out my Spirit on all mankind.""
Acts of the Apostles 2 : 17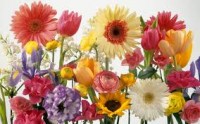 At Pentecost as at the Resurrection,  something new came to life.  It is springtime in the Church.  In spring we rejoice at the newness of life.  Winter is over.  There is fresh growth.  Green shoots appear everywhere.  We rejoice at the sight of buttercups and daisies in our fields.  This new life coincides with Resurrection and Pentecost.  God is making all things new.
The Spirit of Pentecost is a spirit of freedom.  No longer will God be seen as belonging to any particular country,  race,  culture or religion.  God is the God of all people.  We are all his children,  no matter what our nationality.  God is in his world,  in the cosmos,  for the cosmos is God's body.  With great joy in our hearts this Pentecost,  let us go forward into the future,  happy in the knowledge that the holy ground we are standing on is the body of Christ.
What bliss,  what happiness is ours to understand and realise we are all God's children no matter the colour of our skin or what race we belong to.  We are all one in God.  This is our faith,  this is Resurrection,  this is Pentecost.  This is God revealing himself to us through the power of the Spirit.  "For who has known the mind of the Lord or who has been his counsellor?   To Him be glory for ever."  Amen
At Pentecost the Apostles rushed out to spread the Good News of the Gospel.  Mary too rushed out to spread the Good News of the Incarnation to her cousin, Elizabeth.
Prayer
Let us pray in the words of Pope St. John XXIII when he opened the Second Vatican Council; "Renew your wonders, Lord, in this our day as by a new Pentecost." Amen